Scholarship Disbursement Programme, October 1, 2006
The first programme of disbursement of scholarships to meritorious students was held under the auspices of Pratibha Poshak and Dhrithi Foundation on Sunday, Oct 1, 2006. Eighty five students from all over Dakshina Kannada district and one student from neighbouring Kasaragod district were chosen for the support after scrutinising more than 350 applications and visiting nearly 140 houses.
Mr. Harish Pejavar, Treasurer of Dhrithi Foundation welcomed and briefly outlined the objectives of Dhrithi Foundation. Sri R.N. Tikot, CEO of Vidyaposhak, Dharwad outlined the genesis and growth of Vidyaposhak and stressed that the project is not just distribution of money but involves a comprehensive strategy for enabling the meritorious students facing financial difficulties to pursue highest education and to improve self esteem and other skills.
| | |
| --- | --- |
| | |
| R.N. Tikot addressing | Harish Pejavar addressing |
Of the 86 students chosen for awarding the support, 66 are girls and 20 are boys; 56 are from Mangalore, 21 from Buntwal, 4 from Belthangady, 3 from Sullia, 1 from Puttur and 1 from Kasaragod and 76 of these students have more than 80% marks. The total amount awarded is Rs 150500.
The cheques were distributed by Sri RN Tikot, Dr. Sanningannavar, Dr. CS Hasbi, Trustees of Dhrithi Foundation and volunteers.
Mr. V.K. Talithaya, Trustee of Dhrithi Foundation and CEO, Primacy Industries, Mangalore delivered the Key-Note address on Choice and Opportunities. He impressed upon the students that in the present day, many more choices are available compared to what was a decade or two earlier and therefore the students should strive to make the right choice on their own, rather than leaving it to someone else, if they desire to have a future that they dream of. He urged them to make the best of the opportunities available so that they can be better citizens.
| | |
| --- | --- |
| | |
| V.K. Talithaya addressing | Dr. C.S. Hasbi addressing |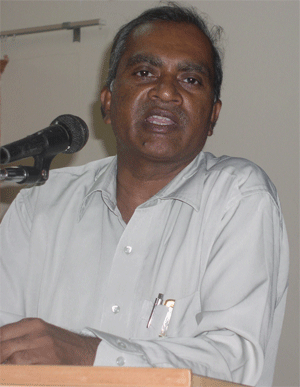 An orientation programme was held for the students. Sri R.N. Tikot explained the functioning of the Pratibha Poshak Project and urged the students to make the best use of the project. The students were asked to provide a list of books that they needed. These books will be provided to them at the earliest. Mr. Tikot assured them of all kinds of help in pursuing their education.
Dr. C.S. Hasbi from Vidyaposhak, Dharwad spoke on developing English language skills. He urged the students to shed the fear of English language and provided tips on improving their skills.
Dr. Sanningannavar, Hon. President of Vidyaposhak, Dharwad provided tips on studying mathematics and science.(Left)
R.N. Tikot offered some important tips on reading skills and how to improve the memory without much struggle.
Sumalatha, a student from Bellare, a remote village near Sullia observed that this programme was unique in the fact that Vidyaposhak was genuinely interested in helping the meritorious students from deprived sections of the society to pursue higher education and she called upon all the students to make the best use of all that the Project offered and achieve academic excellence and later on to help other students who face similar problems.